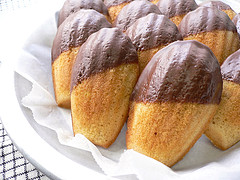 We survived the apocalypse! In celebration, we're kicking off the week with a little holiday cheer. What's on deck? Caroling for a Coke, Christmas dinner in a can and a few unfortunate holiday family snapshots. Happy Holidays to you and yours!
Coca-Cola's Happiness Machine Now Accepting Christmas Carols as Payment [VID]
O Coke machine, O Coke machine… Carol Dunn (@GreatVendingLoc ), thanks for the refreshing holiday smile.
Christmas Dinner in a Self-Heating Can
All we can say is "delish." Thanks Ian Deveney (@DeKrronCat). Our tummies are empty with anticipation.
15 Weird Christmas Books
It's not too late for a last minute gift. Collin Kelley (@CollinKelley), are any titles on your list?
Bad Family Christmas Photos! 20 of the Ho Ho Horrible![PICS]
Ho Ho hilarious is more like it. Buzzfeed (@BuzzFeed) dishes up another Christmas crack up.
Video of the Week
Yes Hanukkah has passed, but  Adam Sandler's tribute is legendary!
Did you enjoy this edition of Monday Madeleines? Leave a comment and tell us what carol you'd sing for a Coke. No over-sharing here. (But if you somehow cross that line, we'll let you know.)